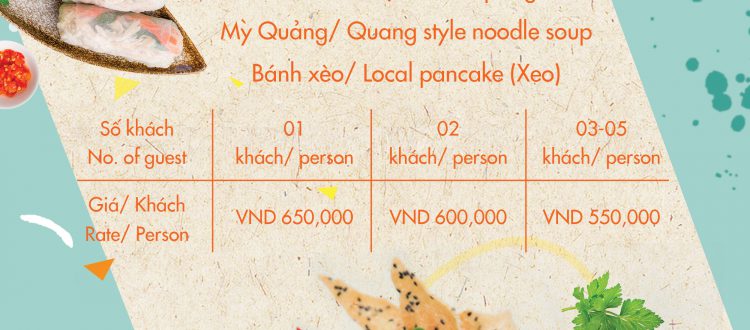 TRADITIONAL VIETNAMESE COOKING CLASS IN BALCONA HOTEL DA NANG
? ? ? ? ? ? ? ? ?
? ? ? Prepare and enjoy traditional foods by yourself with masterchef of Balcona hotel.
? Let's go to the market to choose the freshest food, invite each other to the kitchen and cook traditional Vietnamese dishes by hand.
? ? ? Different from other "Cooking Class", at Hotel Balcona, after an interesting time of shopping, cooking … visitors will have a certificate to certify that visitors have completed the cooking class. Many guests will surely be "surprised" by going to the market, cooking is not difficult at all. But it is interesting and gives them new emotions.
? Traditional dishes such as: FRESH SPRING ROLLS, QUANG NOODLE and VIETNAMESE PANCAKE.
? info@balconahotel.com
? (+84) (0) 868 18 73 73
☎️ (+84) (0) 2366 29 92 92
? www.balconahotel.com
? www.facebook.com/balconahoteldanang
? https://www.youtube.com/channel/UCnOb699-36lyEuCLKRCBA3A
TRIPADVISOR: www.tripadvisor.com.vn/Hotel_Review-g298085-d14058690-Revie…
(ZALO): 0868 18 73 73